UPCOMING CLASSES:
Date: November 30, 2018
QUILTMAGINE CLASS– Betty Sherman, Instructor
FREE MOTION CLASS – Linda Miller, Instructor
For more information click here.
MEMORY LANE QUILTING CLASSES
Short-Arm, Mid-Arm or Long-Arm instructions available. Learn how to use your quilting machine to the max.
(All classes taught on Nolting Longarm machines)
Pre-registration is required and class size is limited
so call today! Call Mike Holodnak at 330.468.2831
E-mail @ mike@memorylanequilting.com.
Longarm Quilting Classes:
By appointment
Introduction to Longarm Quilting – To give the new quilter a good basic understanding of the overall operation of the machine, prepping and loading a quilt, needles, thread and supplies needed to begin your quilting journey.
4 hour class, by appointment. $100.00 Taught by Mike Holodnak.
For info call Mike Holodnak at 330.468.2831
---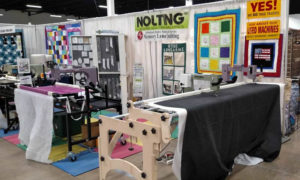 MEMORY LANE QUILTING 2018 SHOW DATES:
Stop by and visit us at one of our upcoming shows:
Dayton One Stop Shop
Nutter Center
Dayton, OH
October 12-13, 2018