CLASSES:
MEMORY LANE QUILTING CLASSES
Short-Arm, Mid-Arm or Long-Arm instructions available. Learn how to use your quilting machine to the max.
(All classes taught on Nolting Longarm machines)
Pre-registration is required and class size is limited
so call today! Call Mike Holodnak at 330.468.2831
E-mail @ mike@memorylanequilting.com.
Longarm Quilting Classes:
By appointment
Introduction to Longarm Quilting – To give the new quilter a good basic understanding of the overall operation of the machine, prepping and loading a quilt, needles, thread and supplies needed to begin your quilting journey.
4 hour class, by appointment. $100.00 Taught by Mike Holodnak.
For info call Mike Holodnak at 330.468.2831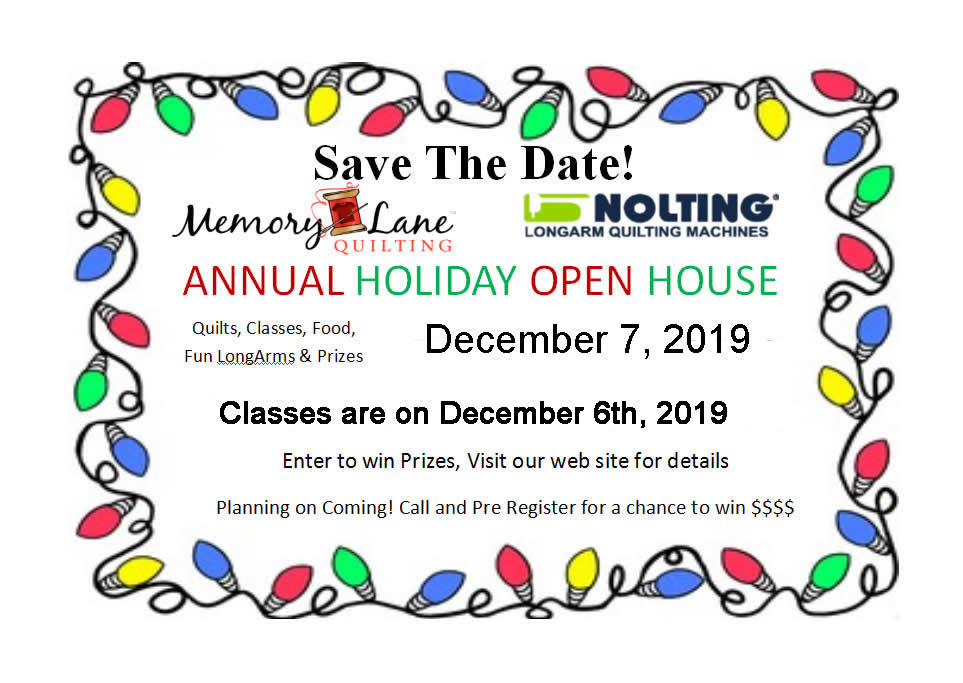 ---
MEMORY LANE QUILTING 2019 SHOW DATES: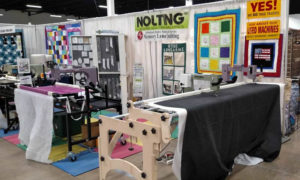 Stop by and visit us at one of our upcoming shows:
The Quilting & Fiber Marketplace
Dennis A Wicker Civic Center
1801 Nash St.
Sanford, N.C.
January 11th & 12th
The Quilting & Needle Art Marketplace
Statesville Civic Center
300 South Center St.
Statesville, N.C.
January 25th & 26th
Mid Atlantic Quilt Festival
Hampton Roads Conv. Center
Hampton, Va.
February 28th – March 3rd
Lebanon Quilt & Fabric Show
Warren County Fairgrounds
665 N. Broadway
Lebanon, Ohio
March 8th, 9th, 10th.
Lancaster Quilt Show at the Doubletree
Doubletree Resort
2400 Willow Street Pike
Lancaster, Pa.
March 27th thru March 30th
Dayton Shop Hop
Wright State Nutter Center
Dayton, Ohio
April 12th – April 13th
AQS Paducha
In The Bubble
Paducah, Ky.
April 24th thru April 27th
Quiltfest Lancaster
Wyndham Lancaster Resort & Convention Center
(formerly the Lancaster Host Resort & Conference Center)
2300 Lincoln Highway E (Route 30),Lancaster, Pa. 17602
May 9th thru May 11th
Quilter's Unlimited Quilt Show
Dulles Expo Center
Chantilly, Va.
May 31st, June 1st, 2nd,
Southwest Ohio Quilt Show
Roberts Center
Wilmington, Ohio
June 14th & 15th
2019 Coschocton Canal Quilters 32nd Annual Quilt Show
"Quilting Through the Seasons"
Coshocton County Career Center
23640 Airport Rd.
Coshocton, Ohio
July 12 – 13, 2019
Event website
Quilters of SC Quilt Show and Vendor Expo
Jamil Shriner Temple
206 Jamil Rd.
Columbia, S.C. 29210
July 19 – 20, 2019
Event website.
Quilt Odyssey
Hershey Lodge and Convention Center
325 University Drive
Hershey, Pa.
July 25 – 28, 2019
Event website
Ohio Amish Quilt Fest
Mt. Hope Event Center
8076 St. Route 241
Millersburg, Ohio
September 5-7, 2019
Event website
Pennsylvania National
Quilt Extravaganza
Philadelphia Expo Center
100 Station Ave
Oaks, PA 19456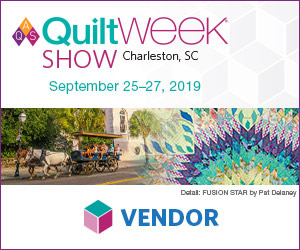 Sept. 12-15, 2019
Event website
Quilt Week
Charleston Area Convention Center
5000 Coliseum Dr.
Charleston, SC  29418
September 25-27, 2019
Event website.
Dayton Shop Hop
Wright State Nutter Center
Dayton, Ohio
October 11 – 12, 2019