CLASS ANNOUNCEMENT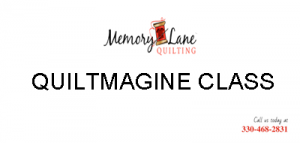 QUILTMAGINE
Date: May 12, 2018
Time: 8AM-4PM
Location: Memory Lane Quilting
6950 Miller Road, Brecksville, OH 44141
For class schedule and description click here.
---
MEMORY LANE QUILTING CLASSES
Short-Arm, Mid-Arm or Long-Arm instructions available. Learn how to use your quilting machine to the max.
(All classes taught on Nolting Longarm machines)
Pre-registration is required and class size is limited
so call today! Call Mike Holodnak at 330.468.2831
E-mail @ mike@memorylanequilting.com.
Longarm Quilting Classes:
By appointment
Introduction to Longarm Quilting – To give the new quilter a good basic understanding of the overall operation of the machine, prepping and loading a quilt, needles, thread and supplies needed to begin your quilting journey.
4 hour class, by appointment. $100.00 Taught by Mike Holodnak.
For info call Mike Holodnak at 330.468.2831
---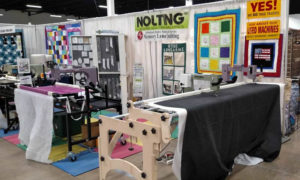 MEMORY LANE QUILTING 2018 SHOW DATES:
Stop by and visit us at one of our upcoming shows:
Lancaster PA Quilt Show
The Continental Inn
Lancaster, PA
March 21-24, 2018
---
Dayton Shop Hop
Nutter Center
Dayton, Oh
April 6-7, 2018
---
Quilt Fest of New Jersey
New Jersey Convention and Exposition Center
Edison, NJ.
April 25-29, 2018
---
Miami Valley Quilters Guild Quilt Show
Greene County Fairgrounds
Xenia, OH
May 4-5, 2018
---
York Quilters Guild
Grumbacher Sport and Fitness Center
York, PA
May 18-19, 2018
---
Quilters Unlimited
Dulles Expo & Conference Center
Chantilly, Virginia
June 2-4, 2018
---
Southwest Quilt Expo
Roberts Centre
Wilmington, OH
June 15-16, 2018
---
Quilt Odyssey
Hershey Lodge
Hershey, Pa.
July 19-23, 2018
---
Bayberry Quilters of Cape Cod
Cape Cod Regional Tech High School
Harwich, Ma.
August 2-6, 2018
---
PNQE
Philadelphia Expo Center
Oaks, Pa.
Sept. 13-17, 2018
---
Cabarra's Quilter's Guild
Concord First Assembly Village Suite #8
Concord, NC
September 21-22, 2018
---
Harvest of Quilts
Greenville Fairgrounds
Greenville, OH
September 27-30, 2018
---
Dayton One Stop Shop
Nutter Center
Dayton, OH
October 12-13, 2018
---
Forsyth Piecers and Quilters Guild
Gateway YMCA
Winston-Salem, NC
November 2-3, 2018