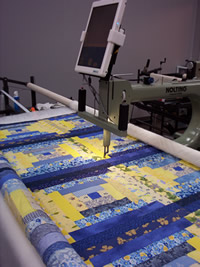 When we started Memory Lane Quilting in 2002, we opened with one basic Nolting SMS 18, long-arm quilting machine. As we grew, the need for machines with larger work areas and stitch controls became necessary, so we added a SMS 24. Recently we have upgraded to a new 24″ Pro machine.
Below are the pricing tables for pattern and custom quilting. With over 100 patterns, we can help you decide which one will look best on your quilt. Pattern quilting turn around time is approximately 3 weeks.
Custom quilting can be anything from shadowing and crosshatch, to in-the-ditch and medallions.
Custom quilting turn around time is approximately 6 weeks. It is best to contact us to discuss which pattern or quilting style will compliment your quilt top.
We can furnish the batting and backing or you may send in your own, Backing needs to be six (6) inches longer and six (6) inches wider than your quilt top. We carry Hobbs 6 oz. polyester, Hobbs Poly-Down and Hobbs 80/20 cotton batting. Our backing is 108″ wide, white and off 50/50 white muslin.
So, if you have a wall hanging or a super king quilt top, we can help turn it into a
" Memory to last a Lifetime".
MACHINE QUILTING PRICE LIST
QUILTING:
Computerized & basic free motion machine quilting, side to side patterns or meandering.
.0175 per square inch
(length x width x .0175)
Minimum charge $65.00)
Thread
Machine binding
Seaming backing fabric
Ironing your quilt top
Add hanger sleeve
100% Cotton backing fabric
6 oz poly
80/20 cotton batting
Shipping with insurance

$7.50 per quilt
$.15 per linier inch
$10.00 per seam
$10.00
$25.00
Priced as marked
$5.95 per yard
$9.95 per yard
$25.00 (by UPS or USPS)
We have a wide variety of 100% cotton backing fabrics that are 108″ wide.