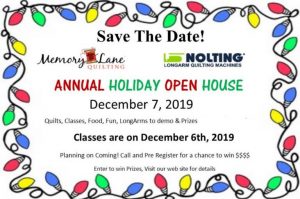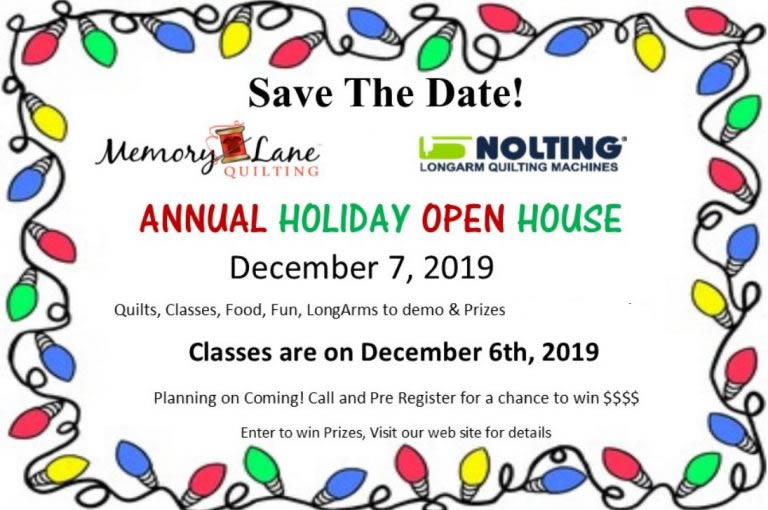 ---
CONGRATULATIONS TO OUR OPEN HOUSE WINNERS!
Preregistered Drawing
Wanda Johnson – $250.00 Store Shopping Spree
Door Prize Drawings 
Sue Bennet – $100.00 Store Store Shopping Spree
Kathy Wullenweber – $50.00 Store Shopping Spree
---
The Holiday Open House is December 7, 2019 from 10AM-3PM.
(Please note that we will not have someone available for scissor sharpening.) 
Description of classes for Dec 2019 Open House:
Basics of ruler work, Introduction
Cost – $65

Have you tried using rulers on your Longarm? Dee will show you the basics of how to use rulers while you make straight lines, SID (stitch in the ditch) and discuss patterns that enhance your pieced top design. Topics about other design elements including thread and motif will also be discussed and you will have time to practice these on a longarm.
Beyond the basics, Ruler work and Free-motion fill
Cost – $65

Quilting is more than just putting thread through all layers of a quilt. The quilt motif is a design element along with the thread and both need to coordinate to make your piece a beauty. Let's go beyond just SID (stitch in the ditch) and beyond using just a straight ruler and practice a few more designs. We may even try some feathers! We will add a couple of different rulers to show how they can spice up your quilting.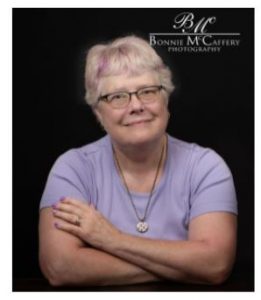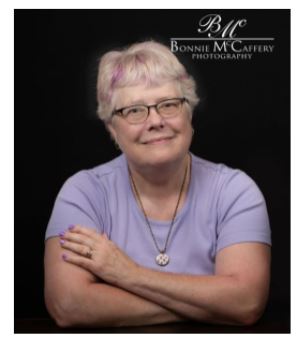 ABOUT DEE HART
Dee has been quilting for more than 30 years and teaching for over 10 years of that time. Her passion is sharing what she loves with others and instilling confidence in them to make their best quilts. She is a professional longarm quilter, designer, and has some judging to her credit. Dee is a quilter who has received many awards and has studied with many nationally known quilters and recently she became a Certified Instructor for Studio 180 Designs. She is a member of several quilting organizations including the American Quilter's Society and North East Ohio Regional Quilt Council (NEORQC).
To register for classes, call 330-468-2831.
---
Quiltmagine Class  
 
Location, Memory Lane Quilting
Friday December 6th
This is a two-session class starting at 8:00am and finishing about 4:00 with a break for lunch
The class will cover
 How to place patterns for blocks and pantographs
 Pantograph quilting
 How to split a design
 Combining designs in Quiltcad
 How to audition quilts using the camera on your tablet
 How to use the border and corner features in the Gold Program
 How use marking pen and fabric compensator
Supplies needed – Your Quiltmagine tablet and note pad
Teacher – Betty Sherman
Cost of Class $125.00
Lunch is not included in the fee
Call Memory Lane Quilting 330-468-2831 to reserve your spot in the class
Meet the Teacher
Betty Sherman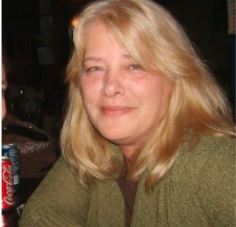 Betty Sherman started quilting in 2012. She started out by signing up for a quilt class at a local quilt shop. The first quilt was a (quilt as you go) quilt. "my Aunt was turning 80 years old and I wanted to make her something special. After her first quilt she wanted to make her granddaughter a picture quilt. After she finished making the quilt she realized that she had to quilt it. She started quilting it on a domestic machine and then decided to get a longarm quilting machine. After getting her first longarm she realized that she was hooked. She mostly taught herself and attended several classes and watch many you tube videos on how to use the longarm. She then upgraded to a newer machine, a Nolting N V, with the QuiltMagine computer system, which she currently uses today. She has taught free motion quilting and Template/Rulers at several quilt area shops. We are excited to have her teaching at Memory Lane!