When we decided to open Memory Lane Quilting in the fall of 2002, a quilt shop owner in Tennessee, who had been using Nolting for about ten years, recommended that we buy a Nolting Long-arm machine to start our business. It was a decision that we have never regretted. So when we had the opportunity to become the distributor for Nolting in Ohio, saying yes was very easy. Whether you are an award winning quilter or new to long arm quilting, Nolting has a machine with the features that you want and need.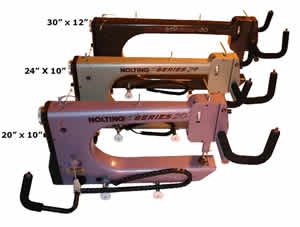 20″, 24″ and 30 " Nolting Pro's
"The quilting worlds desirable longarm." The Pro Series is the same basic unit as the commercial line but is designed to have additional features that make your 24/7 quilting experience even easier.
For complete info and pricing click here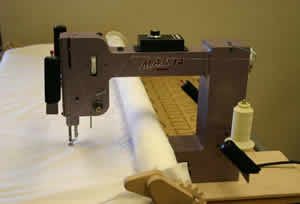 The M.A.Q. 14
Mid Arm Quilter 14″
Works on ANY Machine Quilting Frame
14″ from needle to back of throat
8″ of inside height
For complete info and pricing click here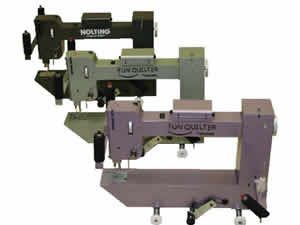 FUN QUILTER 17″ – 20″
The "Compact Longarm" that CAN!
For complete info and pricing click here
Pro Series
Pro series option comes with …the new stitch regulator I S Turbo for Nolting. Front and rear control boards that are easy to see/reach. AlsoIncludes customized position front and rear handles for comfort and ease of movement. Only available on the 24″ and 30″ machines
OPTIONS: MECHANICAL
Hydraulic Lift Table Legs
Tables 6′. 7′, 14′ (other lengths – inquire)
Transformer (converts 220v to 110v)
Creating – If shipping common carrier
Shopping – common carrier
---
MACHINE TIME RENTAL
Memory Lane Quilting offers our customers the opportunity to learn to longarm quilt on our Nolting machines and rent time so they can quilt their tops themselves. Whether you have quilted with your home sewing machine, a short arm or never tried to do any quilting at all, it is a great way to find out if you like to machine quilt on a longarm. Below is the pricing for the class and machine time.
Come and try it, it will be Sew Much Fun.
Learn to Quilt Classes – $100.00

This class is about 3 hours long. You will learn how to load your quilt top, batting and backing fabric, and how to set up and operate the machines. Then you will have time to practice so you are comfortable to be on you own. Price of class includes your training, a set of quilt zippers, a pack of needles and 5 bobbins.
Rental time:
$25.00 per hour, with a two hour minimum.
Additional time is by the hour at $25.00 per hour
We will keep tract of your rental time and credit $25.00 for each rental hour, up to 20 hours, and apply it towards the purchase of any new commercial equipment package.